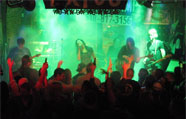 "Debbie's great vocals and intense energy on stage is something to behold with her hair flying yet somehow returning to it's original place adds a 'hot' factor that isn't seen much with live acts... this band was very energetic and action heavy compared to most bands that just stand there and do not engage the crowd.... Hearing their next original 'Rockstar' bothered me, only because this band was somehow unsigned, yet pulled crowds into frenzy and generated rocking tunes throughout spot-on covers of traditional and newer rockers.... The crowd was jumping, screaming, loving the band to the extent that it was difficult to navigate their way off stage for another setbreak.... The band's camaraderie I observed during setbreak was uncanny; they could easily be mistaken for brothers and sisters joking around and having a good laugh, keeping a positive, but not naive outlook on things.... The band played strong till 3:30am, long after it was time for me to call it a night. Ten Year Vamp puts on one helluva show for any music fan."
- Phanary Pete Mason Upstate Live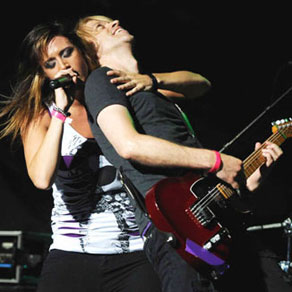 Ten Year Vamp Opens For Bon Jovi
More Photos Here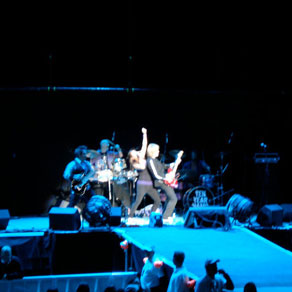 Ten Year Vamp Opens For Aerosmith
More Photos Here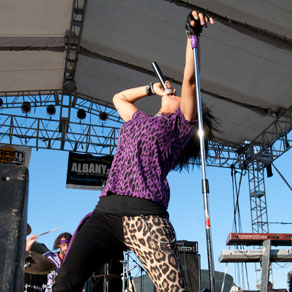 Ten Year Vamp Opens for Eddie Money
More Photos Here


FLY92.3's Winter Chill with Ten Year Vamp
and Andy Grammer
More Photos Here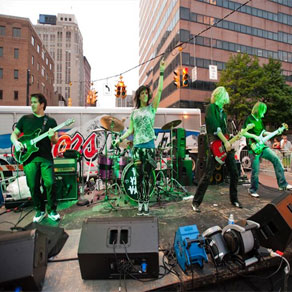 Ten Year Vamp on Pearl Street
More Photos Here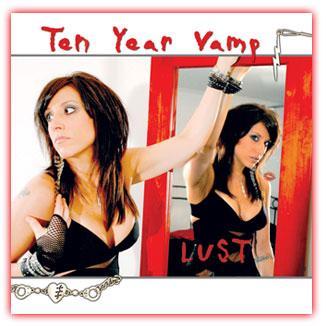 You can purchase our CDs HERE. You can also download digital tracks from CDBaby, iTunes and many other places!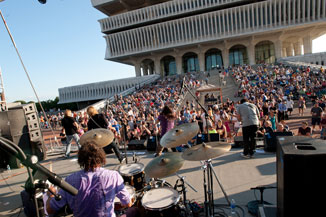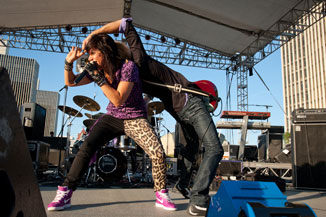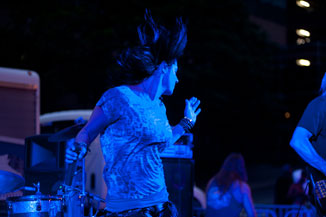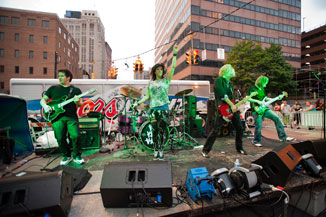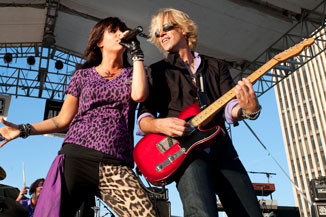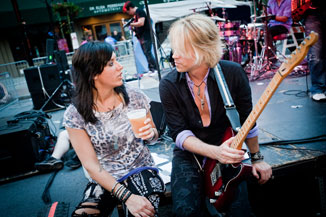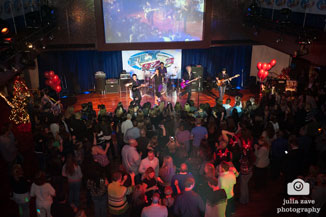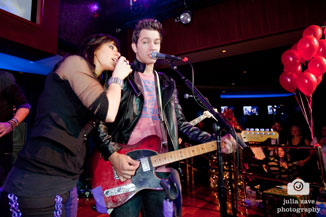 RECENT NEWS!
11/28/2015: New merchandise can now be purchased HERE!


"Filled with catchy riffs and heavy grooves, the album easily proves that it can stand next to any top-40 album on the charts today... With a strong band dynamic, and enigmatic front woman and a business sense usually reserved for Wall Street boardrooms, Ten Year Vamp is taking the musical, and business, world by storm. With a string of catchy tunes, a good production team and a strong vision for their future, it's only a matter of time before the band, which has opened for Lifehouse, Simple Plan and the Spin Doctors, jumps to the top of the marquee of concert halls across the country."
- Guitar International

"I recently became aware of this band and got their newest EP, Lust, and I absolutely adore it. I have listened to the record a million times since the first time I heard it. It still has not gotten old, and I don't think it ever will."
-Bohm Music Review

"The band's Don't Act Like You Know Me works well as a spotlight for the band's music. Frankly I can't understand why Ten Year Vamp isn't a household name already in the music scene... this band should be headlining the shows.... For any record labels executives reading this do yourself a favor and head up to Albany, New York and sign this band, you won't be sorry."
-The CD Reviewer

"For an Indie band working outside of the major label framework, Ten Year Vamp has been extremely successful at getting their music placed/licensed, and has even managed to chart in Billboard magazine. The band itself is as tight as a wire, and lead vocalist Debbie Gabrione is the type of front woman who can captivate an audience from the first note…. Lust opens with "Got 2 Me", an amped up love song about the power of love to turn her head. The high energy rocker is full of honest vulnerability meshed with toughness that's appealing in a 1980's Pat Benatar style. "Thinking Of Me" keeps the temp and energy going with a catchy rocker that seems ripe for use in an edgy romantic comedy. Gabrione's vocals are superlative as always, and you simply won't be able to sit or stand still."
-Wildy's World

"I was blown away by this band right away… The first time that I heard the lead singer Debbie Gabrione's voice, I was hooked. They got great songs, excellent lyrics, great melodies, and like I said, Debbie's voice just ties it all together. The album Don't Act Like You Know Me, is solid all the way through… I ended up buying the album and wanted to play almost every song on the show today... On top of it all, Debbie is just f&%$in hot... This is a top of the UC Radio List recommendation."
- UC Radio

"Albany, New York's finest come on hard and stake their claim to a piece of the Hot 100 with an assault as willing to kiss about as often as bite."
- Rock NYC

"Pleasures has nice rock rhythm and style, also this song glues like gum into your hair! The guitar details and the chorus lines with the choir are just fabulous!... Of female singers I have heard in this genre, Debbie is absolute the best I ever heard!... Most bands have some ups and downs throughout their albums, but Ten Year Vamp doesn`t have any dull moments at all, but high quality and very entertaining songs all the way throughout!...

I have to admit I am totally blown away by the songs from this band, and of bands in this genre, Ten Year Vamp is my absolute number one!!! I can promise fans of female fronted rock, you will get hooked on this band and music immediately, so check them out now!!! 99/100"
- MHR Today

"Ten Year Vamp's front-woman, Debbie Gabrione, stands out as a combination of strong women band leaders coached by the inspirational women to lead past generations. A new album created every year except 2009 since 2005 shows the entire band as one forged by commitment and held together with a pop-rock sound that rivals the would-be fad stars of the present.... Ten Year Vamp captures that essence of youth. It reminds me of what Madonna, Sheryl Crow, Gwen Stefani, and Hannah Montana did for their respective generations - these quick, catchy songs will rally the sense of hope in otherwise tormented teens."
- Target Audience Magazine

"Having fondly remembered the band's 2009 debut album 'Don't Act like You Know Me', I have been eagerly awaiting the follow up by Ten Year Vamp. Now comes the "Lust" five-track EP, a disc that continues the impressive high-energy music that this band is becoming well known for. Driven by the charismatic lead singer Debbie Gabrione, the songs draw out their issues surrounding love and lust. It is easy to be captivated by Debbie and she sings with great heart and purpose. With a talented band alongside her, their career should continue to boom"
- Mediasearch
Please see our Press Page for more reviews